B5000 DOCUMENT AUTHENTICATOR
Automatically Authenticate Passports, Driver's Licenses and ID Cards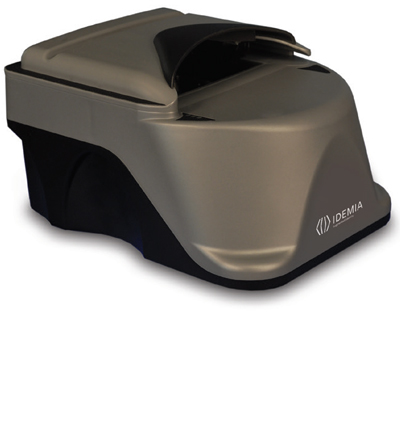 Authentication technology adds security to any environment where the authentication of identification documents is crucial. IDEMIA's B5000 desktop-based ID verification and high-resolution document-scanning solution provides such security with large-scale deployments worldwide at customs and border patrol locations, telecom POS and education testing centers.
The B5000 captures and authenticates high-quality document images such as driver licenses and ID cards, passports, and other similar documents that people use as proof of identity, to ensure that the individuals are who they say they are.
HOW IT WORKS?
Automated authentication speeds document inspection, which supports faster customer processing and decreases errors due to human limitations such as fatigue, collusion, and extortion. Our platform captures full color images using several light sources and performs multiple security checks against IDEMIA'S comprehensive database of over 4,000 ID template libraries to ensure the ID being presented is valid.
AUTOMATICALLY POPULATES
User applications with information contained in the identity document
EASY IMPLEMENTATION
Of additional security layers that combine biometric identity verification and watch list checks
MODULAR DESIGN
With hands-free operation
FAST AND RELIABLE
Automatically recognizes a wide range of common identity documents
---

YOU CAN FIND THE B5000 DOCUMENT AUTHENTICATOR IMPLEMENTED IN