DELIVERING FRICTIONLESS ACCESS EVERYWHERE
i2Access is the plug-and-play enterprise biometric management solution that lets you add biometrics to your installation and facility security architecture. Connecting to your existing access control system & capture devices, i2Access securely manages and distributes biometrics across your organization.
i2Access manages identities across a federated enterprise. It delivers fast access for biometrically cleared individuals, while providing the ability to monitor, alert, and log on a clean user interface. It can also scale to support globally distributed installations, campuses, or individual facilities, while securely integrating with existing access controllers. i2Access ensures centralized, encrypted storage, management, and distribution of biometrically resolved identities.
The NSS Comprehensive Base Access Solution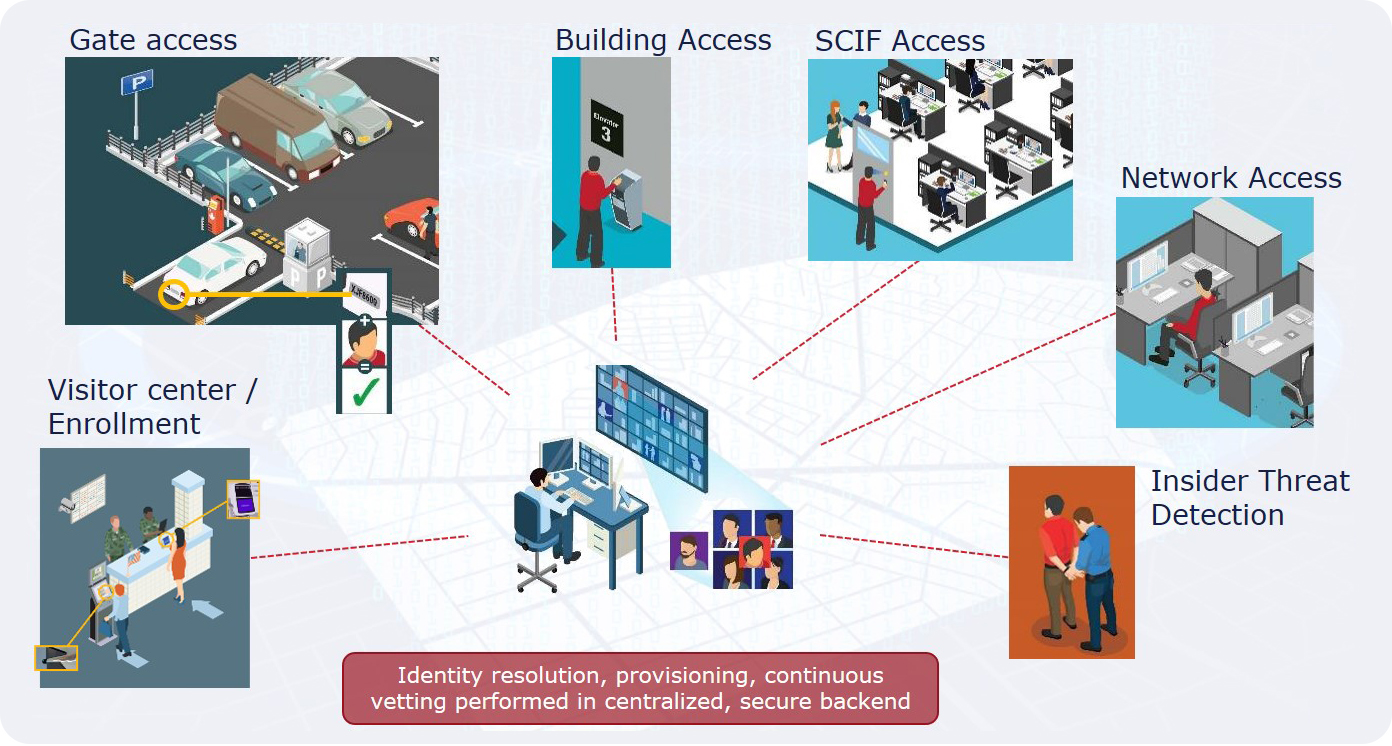 ---
KEY BENEFITS
FAST ACCESS
Matching against backend database in less than 1 second
Optimized for best of breed contactless capture devices, e.g., MorphoWave
EASY TO INTEGRATE AND USE
Plug-and-play compatibility with IDEMIA, NSS, and third-party biometric sensors
Runs in VM environment or as an appliance
User friendly, web-based GUI for monitoring access and managing users and hardware assets
INTEROPERABLE
Integrates seamlessly with the full range of IDEMIA, NSS, and third-party access control products (MorphoWave, Sigma, etc.)
Imports and exports industry-standard EFT records
SECURE
Provides end-to-end security and privacy assurance
No biometric data stored on biometric devices, eliminating the opportunity for theft
OBSOLESCENCE MITIGATION
NSS's experienced, professional team of engineers is available to help optimize your solution
Onsite or remote support available
Regular updates to keep up with rapid industry developments
---
KEY FEATURES
SECURITY
AES 256 bit encryption at rest
2048 bit encryption in transit
Encrypted Personally Identifiable Information (PII) with FIPS-140 compliant cryptography
STIG compliant
ENROLLMENT
Supports import of standard EFT records and biometric images
Mobile Enrollment for visitor pre-registration
Seamless integration with UES enrollment tablet used for TSA Precheck enrollment
CARDS
200 Bit contactless badge support
Supports FIPS-201 compliant CAC/PIV cards
MODULARITY
Works with IDEMIA and third-party plug-ins for: identity resolution, continuous vetting, insider threat assessment
Federated enterprise or stand-alone solutions available
INSTALLATION OF THE FUTURE
Enables multi-modal biometric identification for installation access
Use face, finger, or license plate to access your installation
Monitor and track entrance, exit, and transit
Continuous vetting options reduce insider threat risk
Realtime video alerting capability
FACILITY ACCESS
Secure multiple facilities across an enterprise or a single facility
Supports badge, PIN, and biometric credentials
Connects to facility's existing access control system
No biometric data at the edge
---

YOU CAN FIND i2ACCESS IMPLEMENTED IN