POWERED BIOMETRIC IDENTIFICATION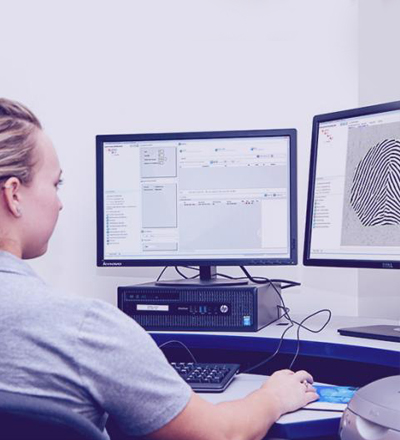 The Multi-Biometric Identification System (MBIS) Suite is a comprehensive range of products centered on an innovative IDEMIA Multi-Biometric Search Services (MBSS) that provides real-time identification of suspects and criminals. This powerful and leading-edge MBSS is based upon IDEMIA's years of experience in providing solutions to law enforcement.
MBIS is a comprehensive range of products centered on an innovative Automated Biometric Identification System. It is a Commercial Off-the-Shelf (COTS) suite of products that form a system foundation that can seamlessly integrate future modalities and enhancements with minimal effort.
With an intuitive, user-friendly interface, MBIS provides investigators with a biometric search engine that is designed for power and speed and is backed by a comprehensive range of tools for editing, selection and image enhancement. Front-end workstations manage fingerprint, palm, and facial images, and display powerful verification and comparison tools, while backend platforms provide processing and archive storage.
In addition, MBIS can interface with third-party systems such as other AFIS, CCH, booking stations and mobile terminals.
The MBIS Suite is fully modular and highly scalable, allowing future upgrades in numerous ways, including type of processed biometrics, database size, throughput, accuracy, and features.
IN-DEPTH FORENSICS
MBIS suite provides criminal investigators with post-event forensic analysis, covering fingerprints and palm prints, including latents.
INVESTIGATION AND LEAD GENERATION
Along with biometric identification, MBIS helps case management by storing evidence images and case-to-person and case-to-case link information.
POWERFUL TOOLS
MBIS has a full set of image/video enhancement and processing tools, including minutiae editing, latent image sizing controls, and fil
EFFICIENCY
Experts can choose between different verification processes, depending on the type of crime. Part of this process can be automated for minor crimes whereas major crimes can be processed entirely by a latent expert.
INTEROPERABILITY
Thanks to its highly scalable SOA architecture, the MBIS Suite can be easily connected to third party systems such as other AFIS, booking stations or mobile terminals. The MBIS Suite includes a gateway system for automated protocol translation and system interconnection.
ACCURACY
IDEMIA systematically integrates the latest level of algorithm accuracy in new product releases, allowing customers to benefit from the latest advances in research & technology.
MULTI-BIOMETRIC CAPABILITY
IDEMIA MBIS Suite supports multiple biometric modalities including fingerprints, palmprints, face, iris, and tattoo. Its modular architecture allows for deployments and configurations of the desired combination of biometric modality support.
---

YOU CAN FIND MBIS IMPLEMENTED IN