PROVIDING A LIGHTER TOUCH FOR LARGE-SCALE FINGERPRINTING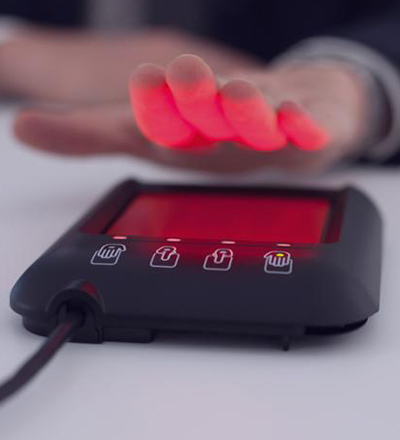 Fingerprint capture is one of the most common uses of biometrics, providing ID registration and authentication for large-scale projects, whether governmental (population registration, elections, etc.) or more recently commercial (customer onboarding).
IDEMIA is the world leader in the field, having accurately recorded for its clients the details of two billion people. Now, organizations can harness the benefits of the latest Thin-Film Transistor (TFT) technology with a next-generation live scan device: MTop Slim by IDEMIA.
Only one-inch thick, weighing just 400 grams and USB-powered, MTop Slim sets new standards for fingerprint scanning in terms of compactness and efficiency. The combination of a thin, modern design and a high-quality sensor makes the device easier-to-use. Designed to accommodate either slap or rolled acquisition, MTop Slim provides quality indicators to ensure that usable data is collected.
A COMPACT, SLIMLINE SOLUTION
Based on Thin-Film Technology, MTop Slim is compact by design with no compromise on fingerprint acquisition quality - making it easy for agencies to install and the public to use.
A RANGE OF APPLICATIONS
MTop Slim is suitable for civil registration, traveler enrolment/authentication (border control), suspect identification by police or customer onboarding.
A WEALTH OF EXPERIENCE
With over 3 million fingerprint scanners sold worldwide, the latest-generation MTop Slim is backed by the expertise of the market leader.
---

YOU CAN FIND MTOP SLIM IMPLEMENTED IN