CAPTURING TWO BIOMETRICS WITH ONLY ONE LOOK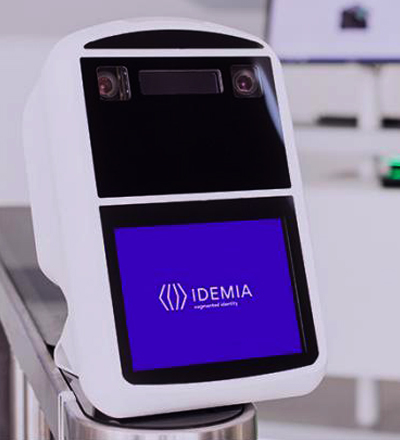 In fast-moving environment, checking people's identity efficiently is essential. The use of biometrics provides the assurance that only you can be you and that only you can prove it. Facilitating the life of users, it is also a reliable and secure way of verifying identity. With multi-biometrics, organizations can operate in even higher security while not affecting users' comfort.
OneLook™* is an outstanding multi-biometric solution. Non-intrusive, it offers accurate, at-a-distance face and iris capture and on-the-spot identity verification. The fastest multi-biometric solution of its kind, it serves a wide range of applications, from passenger enrollment to border control and smart boarding.
*Branding not available in Europe, Japan, and Singapore. For these countries please ask for ID-Look product and services.
QUICK AND EASY CAPTURE
Non-intrusive and easy to use, OneLook uses 3D video tracking and auto-focus for both face and iris capture in less than two seconds.
BEST OF BOTH WORLDS
Separately, iris and facial biometrics offer a high level of accuracy. Combined in OneLook, they provide an unparalleled accuracy based on software algorithms regularly proven to be the best in the world in independent tests.
HIGH-QUALITY EQUIPMENT
The advanced imaging equipment used in OneLook enables the device to capture high-quality data and to provide best-in-class accuracy in a highly reliable product embedding anti-spoofing capabilities.
---

YOU CAN FIND ONELOOK IMPLEMENTED IN