CONFIGURING ACCESS AND TIME TRANSACTIONS TO YOUR NEEDS WITH VERSATILE FINGERPRINT TERMINALS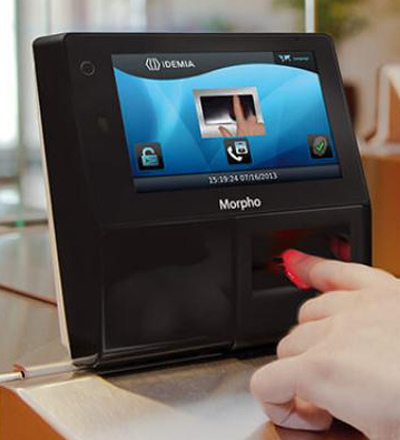 For many organizations, access control has a key role to play in the security of buildings, while time & attendance data is vital for HR applications, such as payroll and personnel management. The MorphoAccess SIGMA Series meets both these needs with a range of advanced fingerprint identification terminals.
Their modern design, including color touchscreen, embedded web server and IP-based videophone functions, provides a tablet-like user experience allowing for a broad range of applications, customization and user interaction. IP651 rated, the readers can be deployed across multiple environments, either indoors or outdoors.
IDEMIA's world #1 fingerprint algorithms deliver fast one-to-many matching against a single 100K user database, a first in the industry. These ground-breaking devices also include anti-fraud features such as fake finger and face detection for enhanced security. In addition, they support one-to-one authentication using the most widely deployed contactless smartcard technologies.
1 Protected against dust & against water spray from all directions
CLASS-LEADING TECHNOLOGY
Consistently ranked No. 1 by NIST for its fingerprint technology, IDEMIA provides customers with a wealth of expertise in biometric identification and fraud detection with the MorphoAccess SIGMA terminals.
USER FRIENDLY DESIGN
The terminals offer a refined user experience, with a color touchscreen and an intuitive, customizable GUI. They deliver a host of features, including a videophone, a web server and a full set of contactless card reader options.
EASY SETUP AND MAINTENANCE
Built for the real world, the MorphoAccess SIGMA Series is designed to save time at installation and reduce maintenance costs.
---

YOU CAN FIND MORPHOACCESS SIGMA SERIES IMPLEMENTED IN