GOVERNMENT SERVICES WEB ENROLLMENT
IMPROVING EFFICIENCY, CUSTOMER SERVICE AND THE USER EXPERIENCE FOR A WIDE RANGE OF GOVERNMENT SERVICES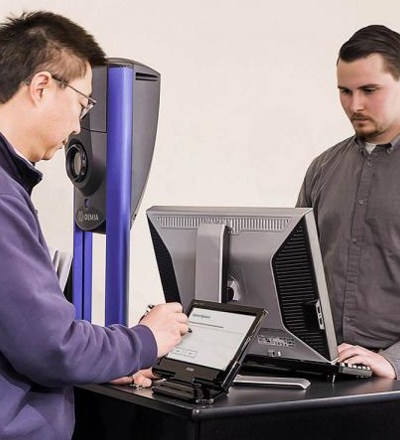 Numerous government agencies provide public-facing services that require authenticated, verified enrollment to receive these benefits and services. These agencies continuously strive to improve and provide applicants with fast service, reduced wait times, and secure transactions.
Web Enrollment allows agency representatives to quickly capture an applicant's photo, signature, and (optional) fingerprint; perform photo image quality checks and optional one-to-one (1:1) biometric matching to process credentials.
The specially designed workflow reduces the number of clicks required to process transactions and only displays information requiring action. Agency representatives can focus on the customer interaction, improving efficiency, and reducing wait times.
Web Enrollment helps agencies comply with REAL ID and other important policies that are specific to each agency's mission. Applicants can enroll to receive government services and benefits seamlessly with an interactive device.
Compliant with government and industry image quality standards, this browser-based solution can be easily deployed and maintained from a central management system. Highly intuitive, Web Enrollment reduces training and support time—and improves the customer experience.
STREAMLINED APPLICANT PROCESSING
Web Enrollment features an intuitive, user-centered design, displaying only actionable information to complete a transaction. Agency representatives spend time focusing on the applicant, not the screen.
LOWER COSTS
Web Enrollment allows a primary capture workstation to share a queue and devices, such as cameras, with additional workstations -- a great option for cost-conscious and/or space-constrained agencies.
---

YOU CAN FIND GOVERNMENT SERVICES WEB ENROLLMENT IMPLEMENTED IN